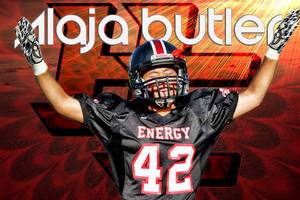 Player Spotlight - Alaja Butler
Energy Season - 4
Education - In School To Become A Teacher
Future Goals - Become A Math Teacher And Open Up My Own Business
Favorite Charity - Autism Speaks
Favorite TV Show - Wentworth & Law And Order SVU
Favorite Quote - "Live The Life You Love, Love The Life You Live"
Most Important Thing In Life - Putting Myself First, Being At Peace With Life And Being Successful. Also Spending Time With My Family Because Family Is My Everything.
What Does Real Women, Real Football, Real Energy Mean To You - Real Women Coming Together To Play Real Football, Continuing A Movement In Women's Football And Creating History. We Bring Real Big Energy To The Field To Make A Statement That We Are Here.